This is a question that I often get from my clients so I'll try to give you some tips to help you choose what to wear for your photoshoot.
My biggest and most important advice will be always this: use something that you like and feel comfortable in. No matter how the items photograph, if you don't feel comfortable, it won't work.
And please, pick clothes that will let you run freely and be blissfully carefree!

You'll spend time playing and getting messy with your children, a short skirt may look nice on you but it probably won't allow you to move freely.
WHAT TO AVOID WHEN CONSIDERING WHAT TO WEAR
Because I focus on connection and emotions, the truth is that I don't worry much about what you're wearing but how you're feeling and the moment you're sharing. The success of the session depends on the general mood and not on color coordination.
But also because of this approach, there are some things to keep in mind.
I encourage my clients to avoid anything that could be disruptive and distract from the emotions we are trying to preserve:
-neon colors
-large brand logos
-character tops
-Graphic tees with busy patterns
-pure white or black
(exceptionally, newborn babies with a white onesie work like a charm)
And finally: complement but don't match. When choosing the clothing consider that you don't need to be all wearing the same shirt color nor anything that looks like you're wearing a uniform.
A NOTE ABOUT WHITE
Some people ask me why I don't recommend white. Pure, solids whites reflect the light and they become the most bright part of the image. And with natural light that changes all the time, this could also become an issue. Thin or textured fabrics are a better option and if it's a muted or raw color, it will look beautiful.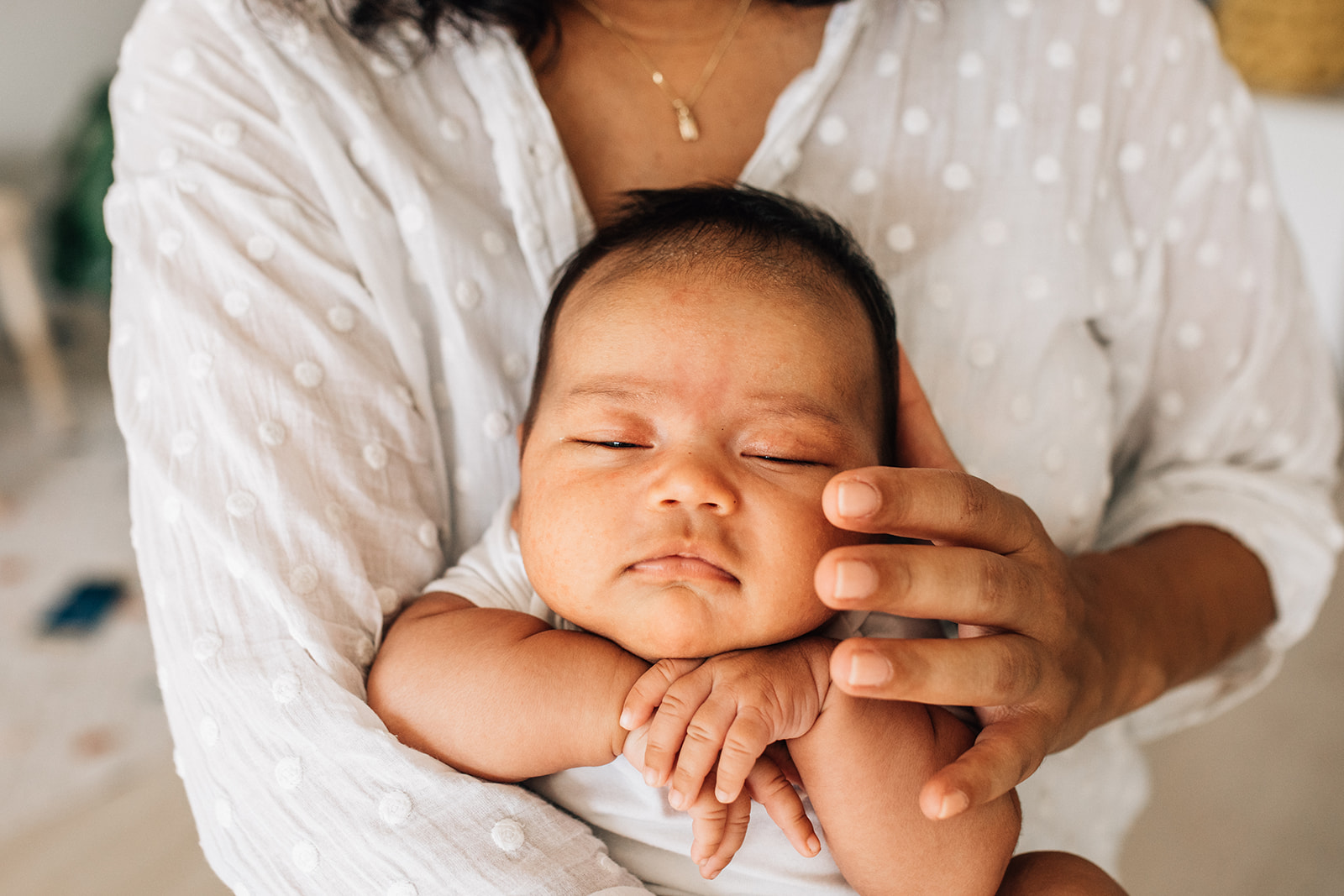 WHAT TO WEAR: NEUTRAL COLORS.
The safest option to let your bonding stand out.
Any combination of cream, gray, and beige will work and will allow us to focus on your joy and connection. See how this family opted for very comfortable fabrics and natural tones, and nothing gets more attention on their imagery than their smiles.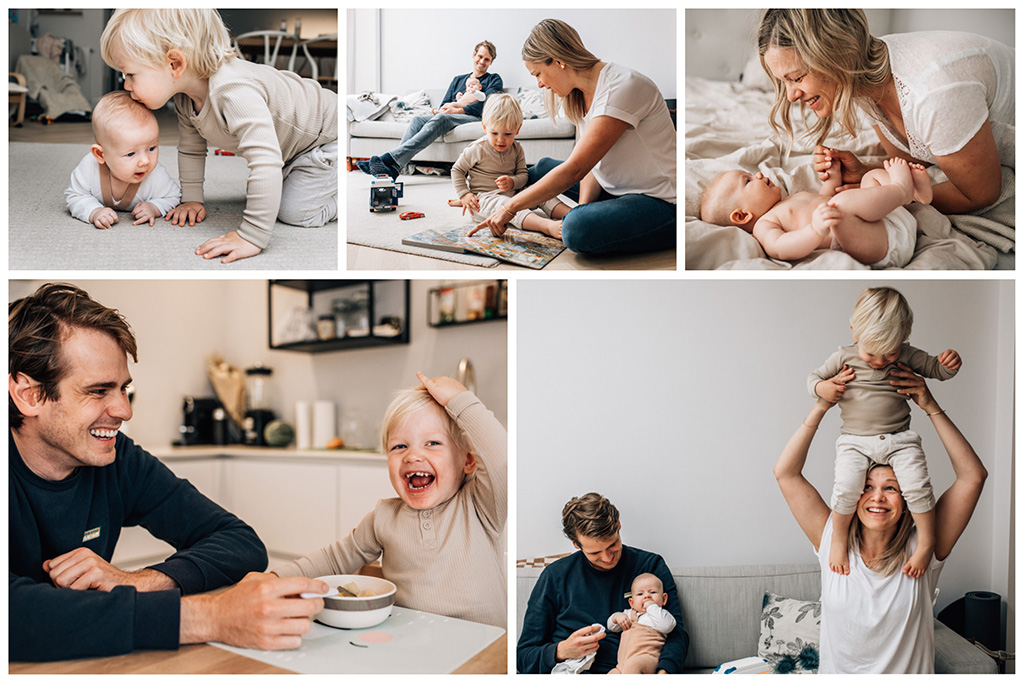 Again, a combination of soft neutral colors, with small patterns and textures that keep the style simple while allowing us to connect with the emotions and gestures of every image.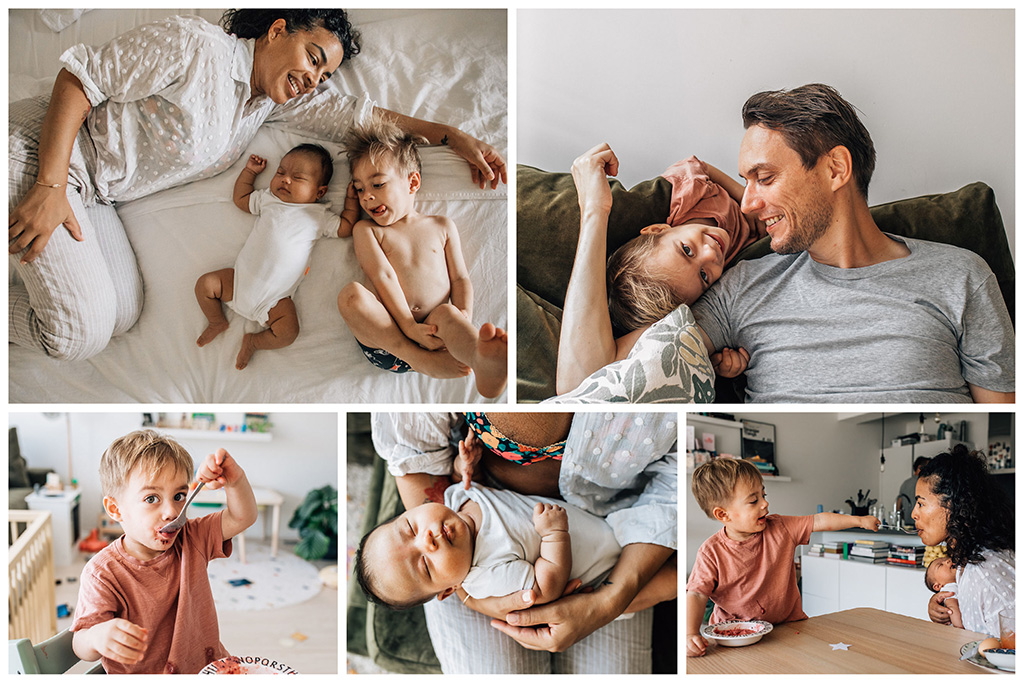 WHAT TO WEAR: MUTED TONES
This family opted for muted and natural tones with some soft and small patterns that add texture, interest, and a pop of color. Even if they all have some texture on their clothes, only one of them has the strongest pattern (the shirt with brown and green palms) and the color pallet is respected.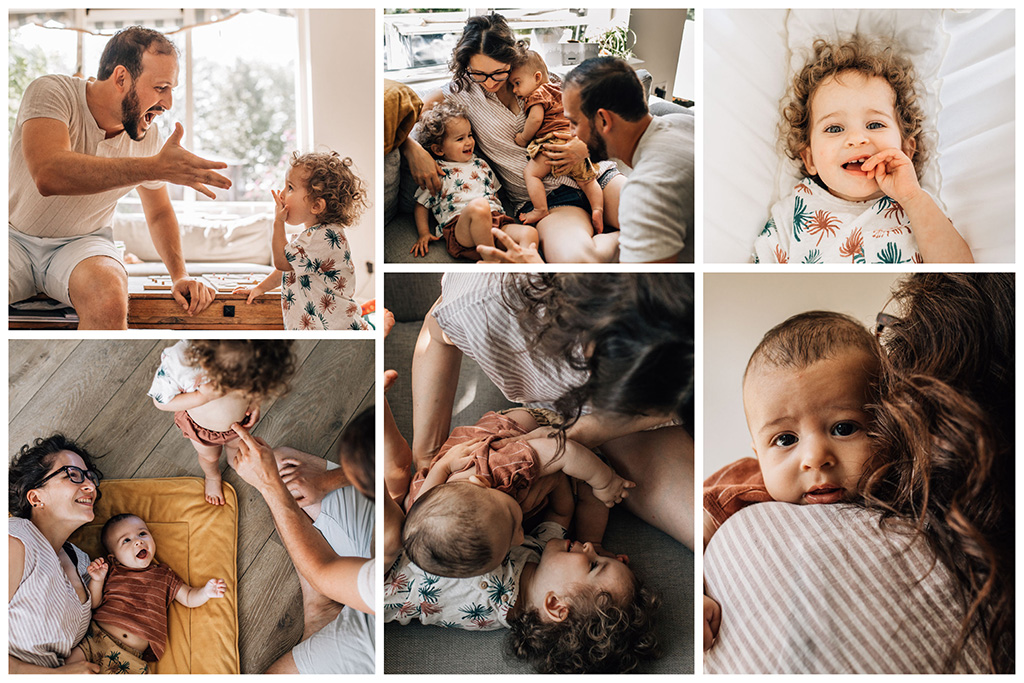 This little family paid attention to the colors of their house when choosing their clothes. Muted greens and blues, and also a bit of sand for their baby (she was wearing white at first, which draws all the attention to her).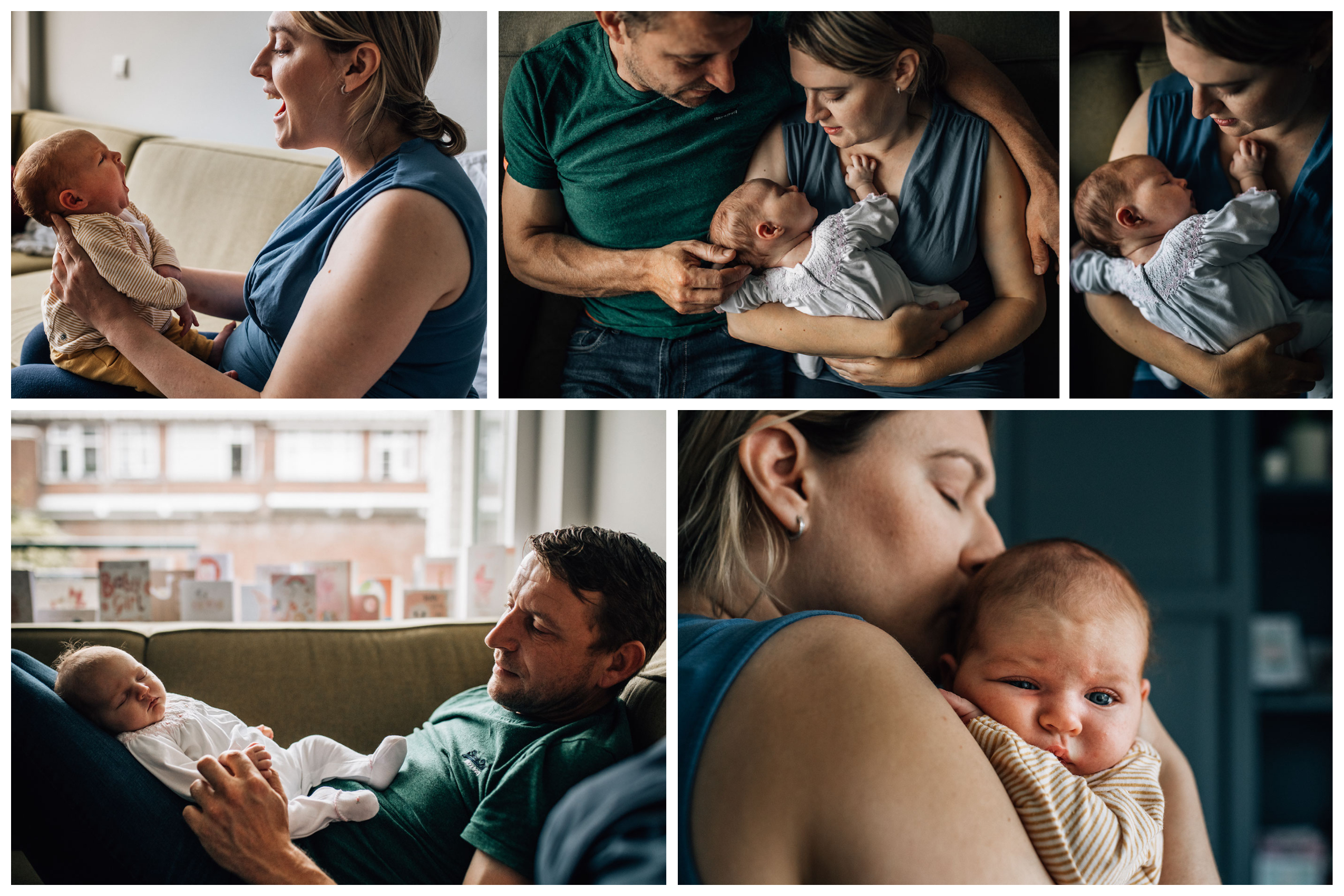 VIVID TONES AND PATTERNS? CHOOSE A STATEMENT PIECE FIRST
This mom decided to wear a stunning and vivid red dress for her family photoshoot. Being the only woman in a family of 7, she chose something that would make her stand out and she did it beautifully. This worked so well because she took into account the colors of her house and the rest of the adults (her husband and two older children) are wearing muted dark colors. That's why even with such vivid tones, we are still drawn to the connections and emotions of the images.
A good tip if you want to reach something like this it's to start with your own outfit and go from there to choose what the rest of the family will wear.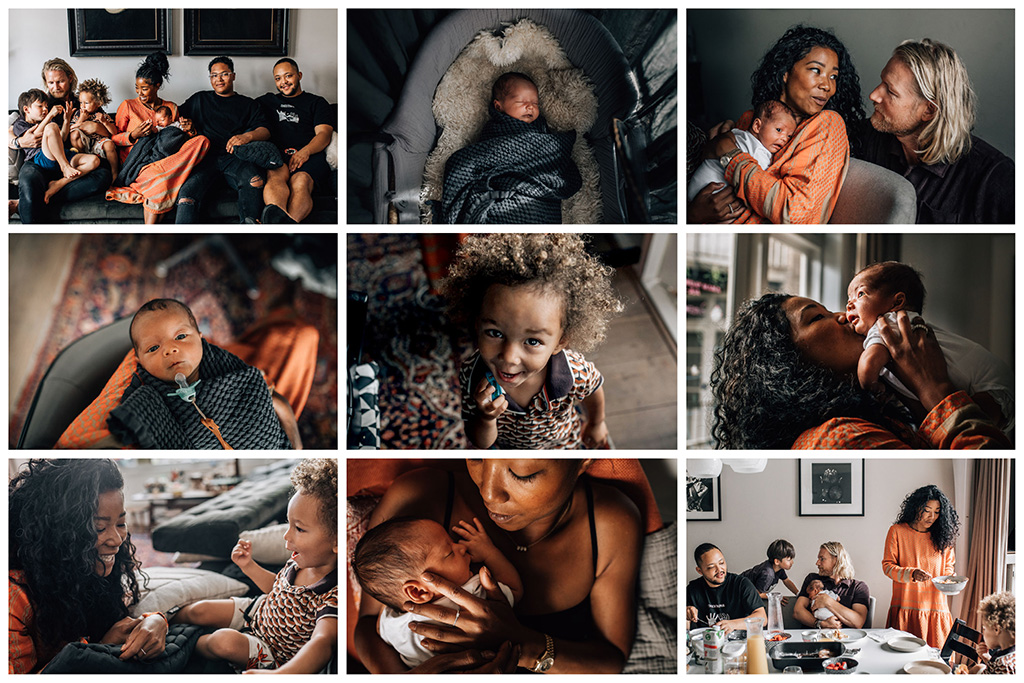 If you're not afraid of patterns, colors, and texture, be my guest and feel free to create. In this session, mom also opted for a magnificent dress yet her baby was wearing light colors that reflect the light and bring all the attention to her chubby beautiful face. She carefully considered the colors of her house and I'm sure she also took the color of her hair seriously into account.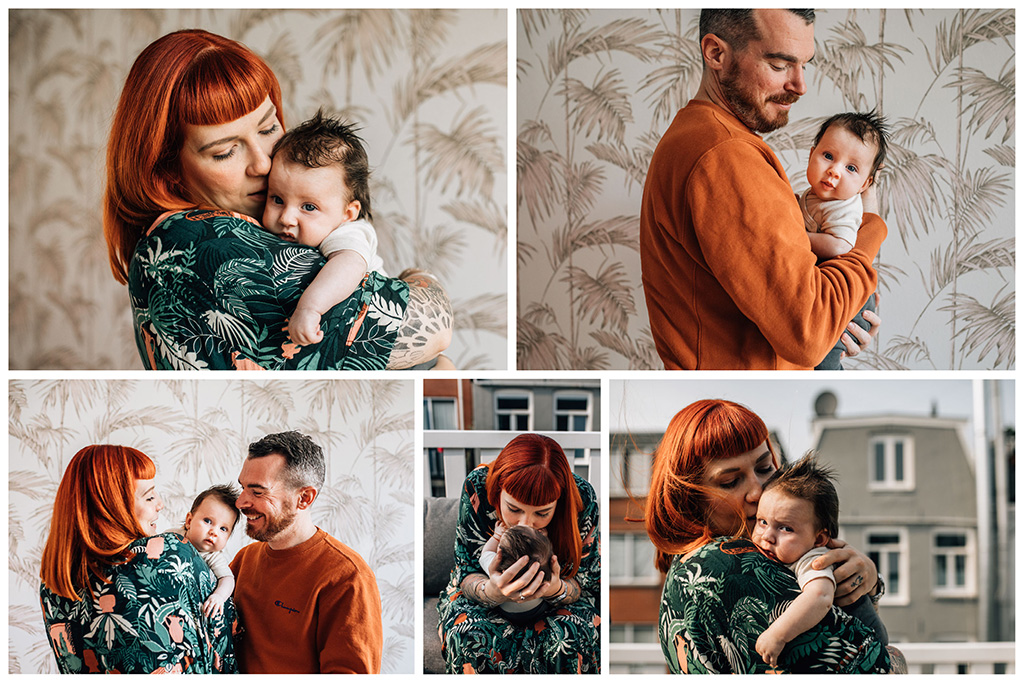 WHAT TO WEAR: LAYERS, TEXTURES, AND WHITE FOR BABIES
When thinking about texture, choose different fabrics that will give to the photos of some interest such as corduroy, denim, embroidery, and knits. Layers also add a lot of interest and solid white on a newborn will guide all eyes to your brand new little treasure.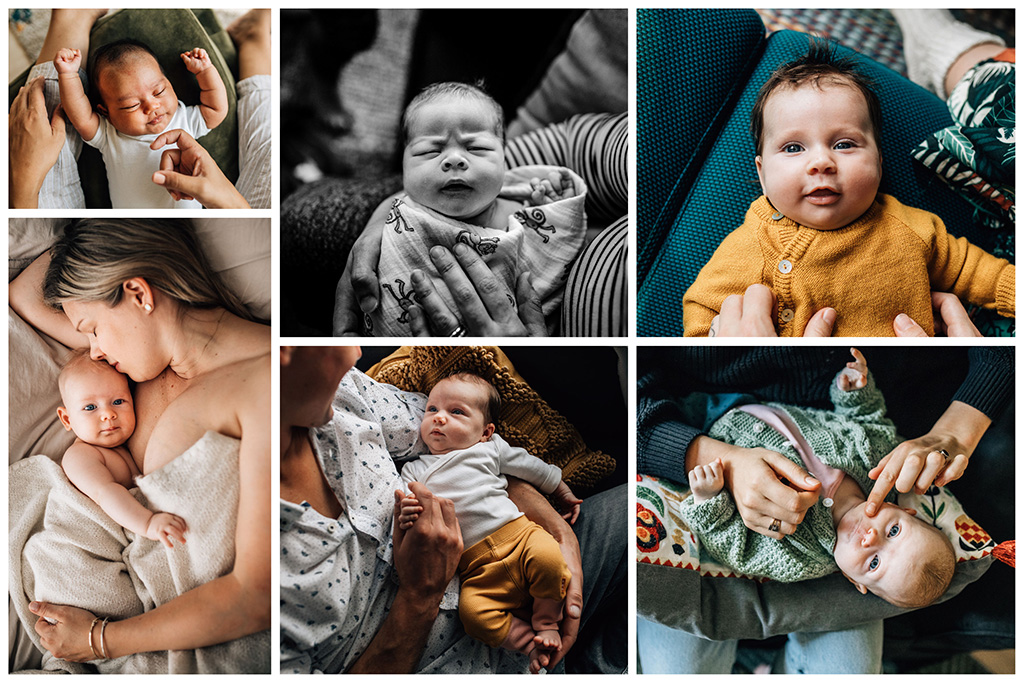 A SMALL NOTE ABOUT COLOR THEORY
You can go very deep with color theory and think about the tones you want to use and how to best compliment them. Some articles like this one explain how it works and how to make the best of it, but I strongly believe in keeping it simple and just enjoying the moment you're sharing with your family.
No matter how nice that outfit suits you, I'm sure that nothing -and I mean NOTHING- will suit you better than your smile when your children hug you.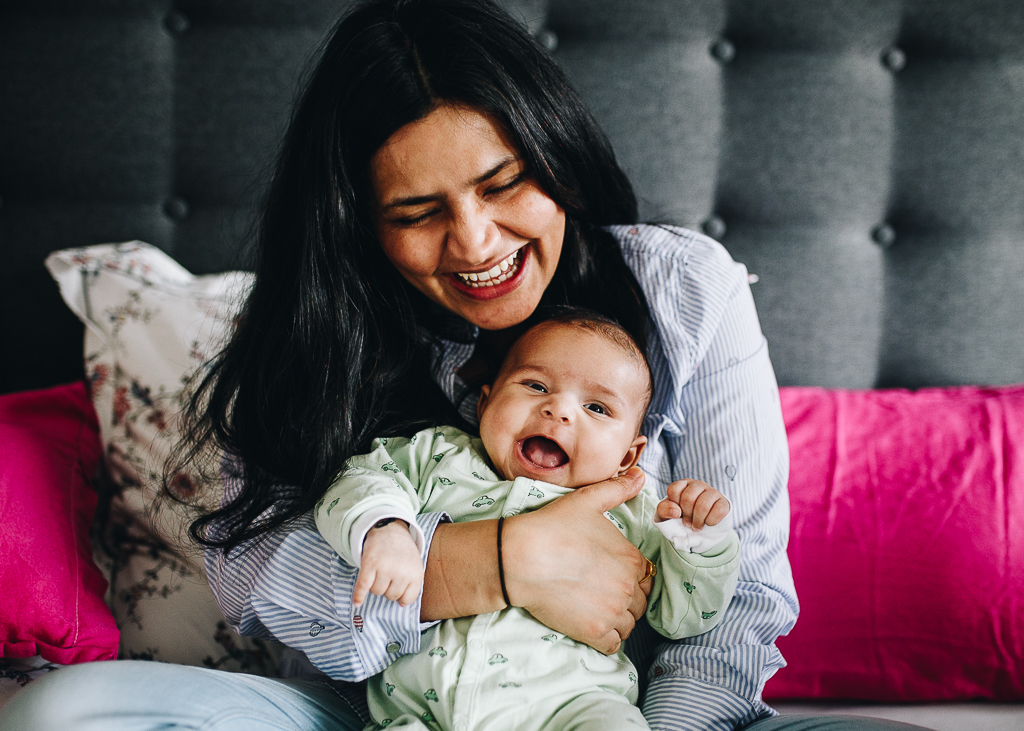 NEED MORE TIPS FOR YOUR PHOTOSHOOT?
I'm creating articles to help my clients to feel more relaxed and comfortable during their photoshoot and to make the best of it.
You can click here to read more about what to expect and to get some tips to have a successful photo session that your children will enjoy and that will give you the heirloom you deserve.
Or simply fill the form to say hello! I'd love to hear from you!